One of the most impressive and versatile fields in visual art is illustration and its alluring power to relate and enrich written stories with images.
The world of illustration has attracted art admirers, critics, and even artists whose work is not focused in this specific art realm since it is a vast art form that includes a wide array of interpretations displayed through the work of every artist.
One fascinating example of an illustrator is the Russian Ivan Bilibin, whose visual art has successfully combined layers of design, details, shadows, light, storytelling, and individuality.
The works of Bilibin are distinctive worlds on their own which depict Russian folklore and history through captivating illustrations.
Ivan Bilibin Early Life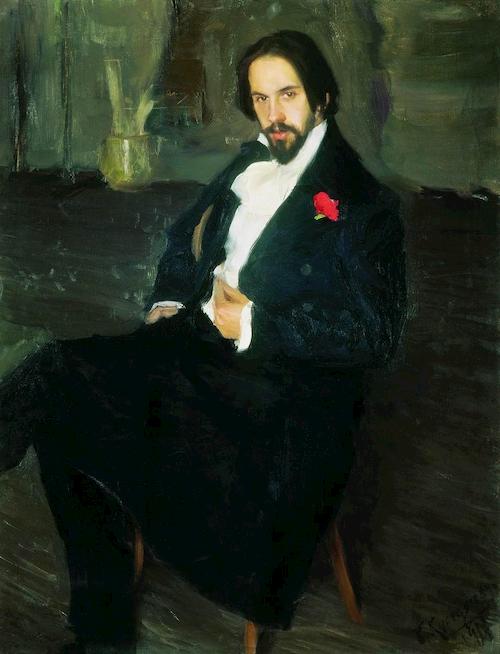 Ivan Bilibin was born on 4th August 1876 as Ivan Yakovlevich Bilibinin, the Tarkhovka suburb in St. Petersburg, Russia.
Ivan Bilibin's first steps in the established educational institutions of art were not quite ordinary as he enrolled in art school after commencing law education.
At the end of the 1890s, Bilibin, a son of a naval doctor, finished his law faculty in his hometown at St. Petersburg University and decided to carry on with his education but this time led by his passion for drawing. He went to Munich and became a student in the Anton Azhbe Art School.
The new life in Munich opened new perspectives and opportunities for Ivan Bilibin, who expressed his ideas, emotions, and creativity in his private art studio.
When he returned to St. Petersburg, he provided a similar working environment for himself, so he entered a studio that was owned by the famous painter Ilya Repin whom Bilibin respected and admired very much.
Related post: Mikhail Nesterov: Prominent Russian Artist
Major Works
Ivan Bilibin became renowned in 1899 when he released his illustrations for a magazine for the first time. Soon, Bilibin became recognized as a skilled illustrator and was invited to become a member of the World of Art Association. Meanwhile, he taught voluntarily in the Studio of Repin at the Art Academy.
That same year he attended an exhibition by the Russian artist Victor Vasnestov where most of the works displayed were related to opera and folklore scenes.
Bilibin was inspired by this so he decided to travel to the wild and remote regions of Old Russia in order to delve deeper into his own creativity.
This retreat resulted in fruitful works of art that soon were spotted and much appreciated by the Department for Production of State Documents that offered Ivan Bilibin a working position as an illustrator who would make series of fairy tales.
The work in the realm of Russian fairy tales brought fame to Ivan Bilibin. His most successful illustrations of Russian fairy tales were made for "The Frog Princess" (1901), "Vasilisa the Beautiful" (1902) and "Marya Morevna" (1903). These were followed by illustrations for the tales of A. S. Pushkin and the top-rated illustrations for "Volga" (1904) and "The Tale of the Golden Cockerel" (1910).
Read: Ivan Shishkin: Russian Landscape Painter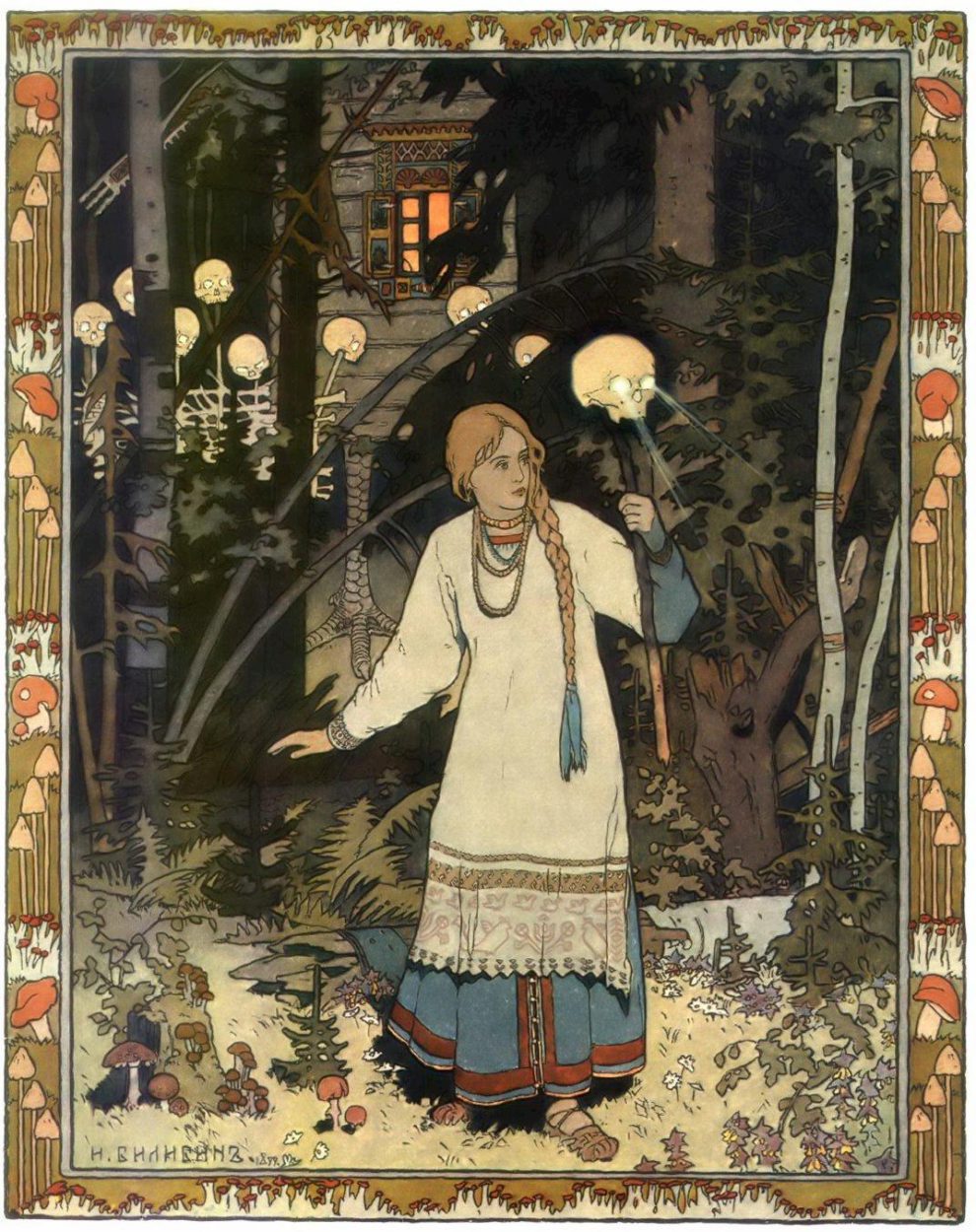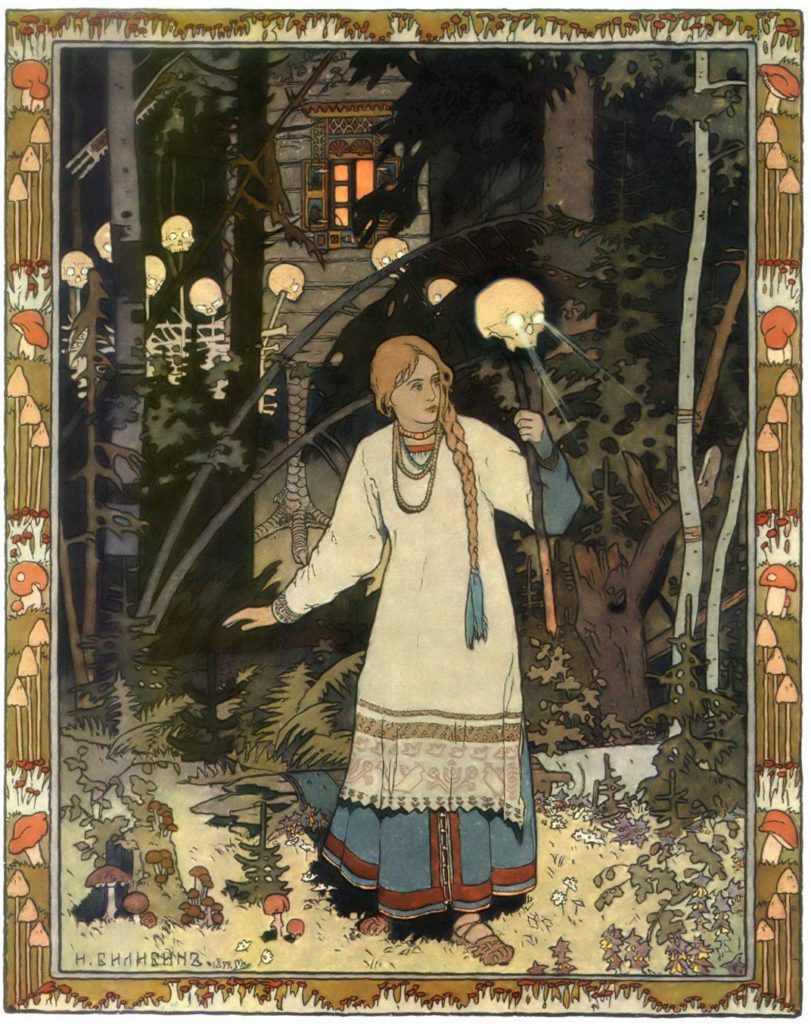 Ivan Bilibin dedicated his entire life and professional creed working on themes related exclusively to Russian fairytales.
He traveled around Russia, studied the Russian folklore, art, and culture deeply, and set the foundations of his graphic style on this knowledge and interest.
The drawings of Bilibin are made with detailed patterns and framed in delicate contours, which are then colored with watercolors. This specific method of creating illustrations is known as "Bilibin" and throughout history, became enough popular to be often imitated.
Bilibin's fairy tale illustrations were also used as graphics for postcards, posters and calendars, and even in political-satire comics that became popular during the first Russian revolution.
In addition, the creative work of Ivan Bilibin caught the eyes of theatrical productions as well, which hired Bilibin as a stage designer to create the scenery for plays that were made according to Russian folk tales.
The major themes for his scene designs were always related to Russian antiquity and the imaginary world of fairy tales. His first work at the theatre was on the play "Pageant on Teofile" (1907).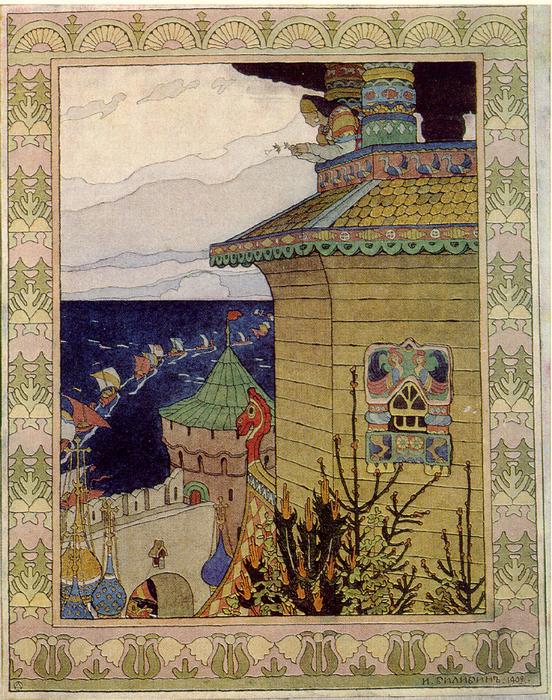 Next, he created the scene of the opera "The Golden Cockerel" (1909). "Ruslan and Ludmila" (1913) and "Sadko" (1914), all successful enough to skyrocket Bilibin in the field of appraised scene designers.
In the autumn of 1917, Bilibin left St. Petersburg during the time of the Revolution and went to Crimea from where he moved to Egypt three years later. He started living in Cairo in 1920, then was hired by the ballet production of Anna Pavlova as scene artist and meanwhile made mural sketches for the Orthodox Church.
In 1925, he moved to Paris, where we gained renown with the opera "The Tale of Tsar Saltan" (1929) and worked on several other top-rated plays but also illustrated French folk tales.
In 1936, Ivan Bilibin returned to Russia, where he was warmly welcomed with an offered academic position as a professor at the Graphic Studio at IZHSA in St. Petersburg, and in 1939, he received a Ph.D. in Art History.
Simultaneously, he designed the stage performances of the plays "Commander Suvorov" (1939), completed illustrations for the novel "Peter I" (1937) by Tolstoy as well as for the new book of Mikhail Lermontov "The Song about Merchant Kalashnikov" (1939) [1].
In 1940, he created the brilliant, ever-remembered illustrations for the fairy tale book Vasilisa the Beautiful (Ivan Bilibin Vasilisa the Beautiful) by Alexander Afanasyev in the collection Russian Folk Tales (in Russian Narodnaye Russkie Skazk).
Unfortunately, despite the great professional success, the life of Ivan Bilibin had a tragic ending. In the first winter of the siege of St. Petersburg, Bilibin died of starvation in 1942.
Related post: Alphonse Mucha: The Slav Epic Painter
Invite Us to Your Inbox
Join
6347 other people
interested in Slavic culture. We don't spam and will only send you an email once or twice a month with latest and most popular articles on Slavs.