Russian art is a unique piece in the great puzzle of the world's art history that is characterized by a wide array of themes, artistic styles, and authentic methods that have created each of the movements and waves in this art realm.
Up until the 18th century, when Russian art became "westernized" and joined the course of European art movements, it was mainly focused on religious themes and this direction is most evident in the icon painting.
One of the most renowned Russian painters whose greatest interest were religious paintings was Mikhail Nesterov. Apart from his artistic fame, he is one of the most famous Russians.
Mikhail Nesterov Early Life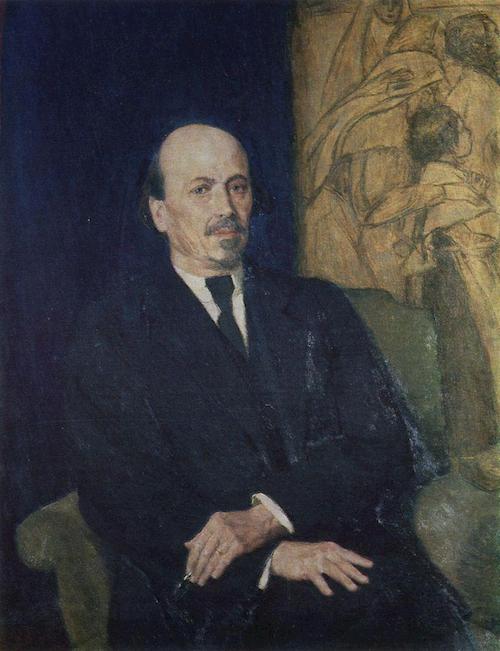 Born in May 1862 to a family of affluent merchants as Mikhail Vasilyevich Nesterov, in the city Ufa, Russia, Mikhail didn't grow into an artist but was raised and educated to follow his businessman father's steps.
He assisted his father with the business for some time but he felt useless and unfulfilled working as a merchant and as time went by he was more and more interested in art.
In 1874, he came to Moscow to study in a technical school as he proved to be a very bad and irresponsible student in the local gymnasium in Ufa. His parents send him to a Moscow school so he would become independent and, therefore, hopefully, more responsible for his future.
At the new school, Nesterov repeated his bad reputation and failed almost all his exams, however, there was something different and this brought hope to him- subjects such as religion, calligraphy, and drawing were subjects that he loved and enjoyed spending time studying.
He successfully passed these exams, so it didn't take long before it was clear that he was predestined for a different life path. Next, he was transferred into a non- classical secondary school.
At this new school, the schoolmaster spotted Nesterov's talent for painting and he referred it to the artist and inspector of the Moscow School of painting, K. Trutovsky. This event changed Nesterov Mikhail's life forever.
Trutovsky recommended Nesterov at the Moscow School, he entered the department of painting and sculpture and studied in the classes of the eminent artists and professors Savrasov, Perov and Prvanishnikov.
In 1888, he enrolled in the Academy of Arts in St. Petersburg, at the studio of professor Pavel Tchistvakov and after some time, he joined the famous Peredvizhniki as did his Russian colleague Ivan Shishkin.
Nesterov and the Peredvizhniki
The Peredvizhniki, also known as The Itinerants or the Wanderers, were a group of Russian realist artists who decided to establish an underground, subversive group of artists in 1870 as a protest to the academic elite, its politics, and restrictions and travel around the rural parts of Russia to present and teach contemporary art to common people.
At the beginning of his artistic career and professional strive, Mikhail Nesterov painted historic as well as scenes of everyday life, however, in the 1890s he became drawn into religious motifs.
He started painting major scenes and events of Russian history, above all the pre-Petrine period and soon became a popular, though not a quite rich historical painter.
At this time, he received intense criticisms from another popular Russian painter- Ivan Kramskov who said that Nesterov shouldn't focus on history as his main artistic subject but try to look for his own real inspiration.
In addition, it is worth mentioning that at the Moscow School of Painting Sculpture and Architecture, Nesterov was mostly fond of his professor Vasily Perov whose works mainly depicted satirical and tragic images of the everyday life of common Russians.
Marriage
In 1885, Mikhail Nesterov married Maria Ivanovna Martynovskaya but, unfortunately, their love story had a tragic ending. Maria died in childbirth with their first and only daughter Olga. This tragedy had a great impact on Nesterov who at one occasion said that it was his beloved wife and his grief that made him an artist.
Everything that people valued and value in my works, all the soul that was before missing in my art, all that came to me with my love for Maria and the loss of her. She turned me into an artist and I put all my senses, emotion, and heart into my paintings.

Mikhail Nesterov
According to Nesterov, his paintings lacked sensibility and emotion before his unfortunate life event and that he suddenly became able to paint not only images but feelings and moods.
Major Works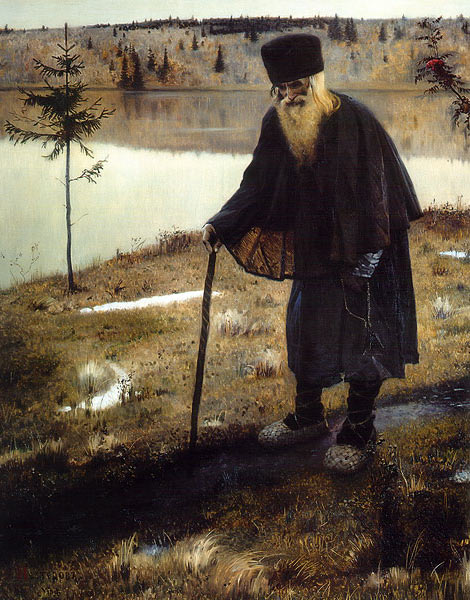 The first painting that Nesterov made after the death of Maria was "The Hermit" in 1888- 1889. The painting presents a monk who is walking along the shore of a lake. It is autumn and the cold weather colors the painting in soft light hues.
First traces of snow can be seen as well as yellow, withered grass and red clusters of berries that announce the winter.
"The Hermit" sealed Nesterov's significance, quality and authenticity among Russian critics who pronounced him as one of the best in his time. This painting was sold to the patron Pavel Tretvakov who owned the Tretyakov Gallery at the time.
The outcome of this deal had a positive impact on Nesterov's finances so he used these earnings to travel to Europe where he visited Italy and the remnants of Rennaissance art which was his great inspiration.
When he returned from his European journey, Mikhail Nesterov started painting his most popular work, the painting "Vision of the Young Bartholomew". (1889-1890).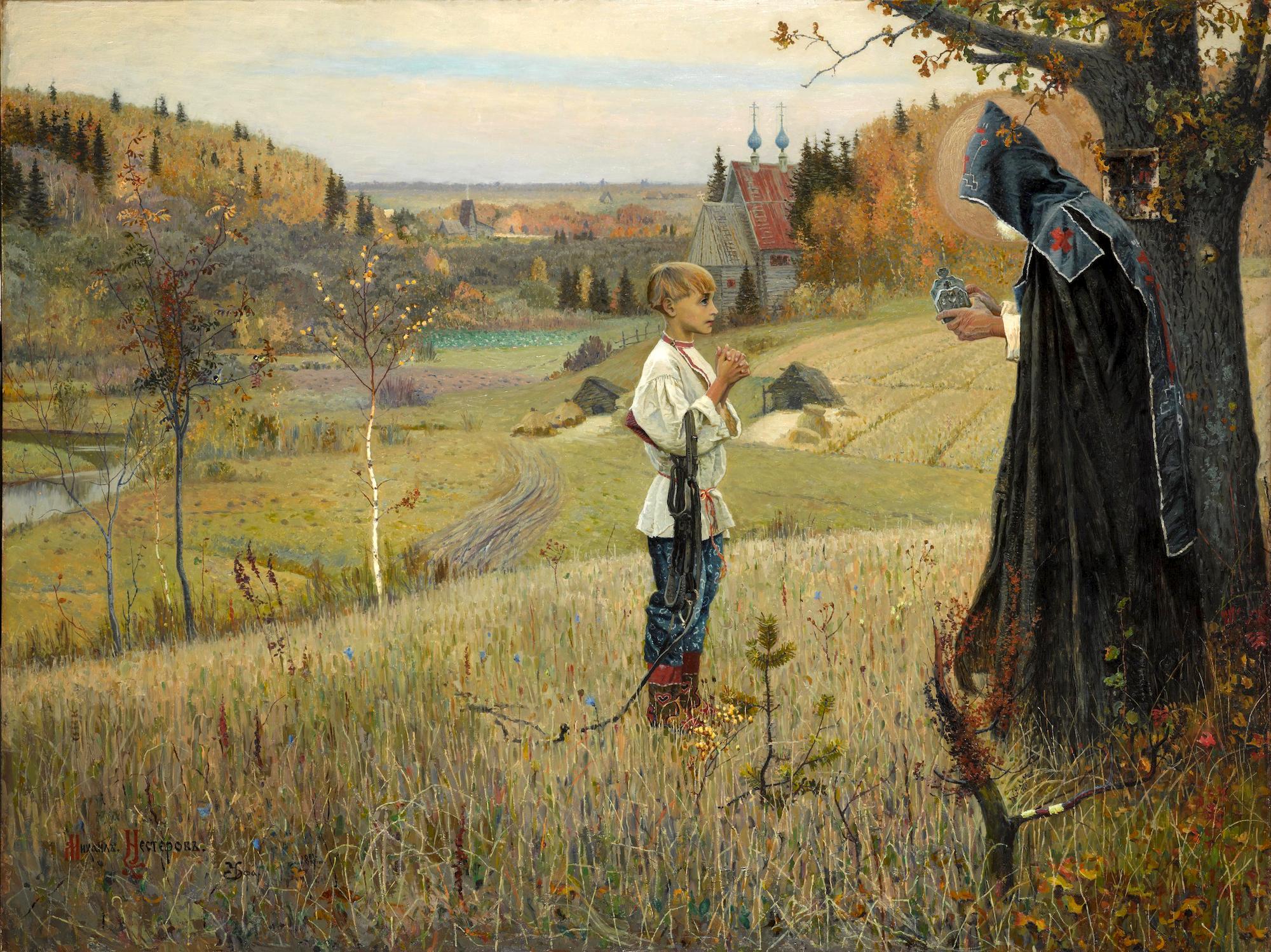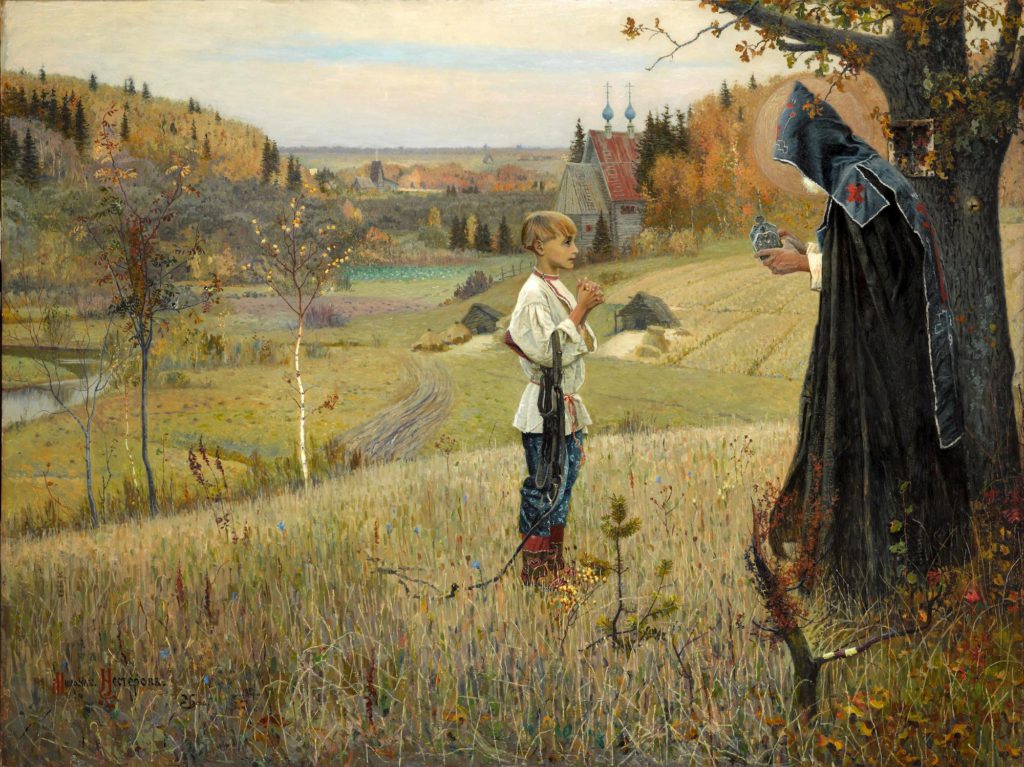 This painting is based on a Christian legend about Young Bartholomew, a young boy who had problems with his reading. One day he meets an ascetic from whom he asks and receives a blessing.
Consequently, Bartholomew learns how to read and then becomes a poet. According to art historians, the son of Nesterov, Alexei, was actually his model fo the Young Bartholomew. Mikhail Nesterov said that this painting was his remnant to the viewers as an attempt to make them contemplate on God's miracles and the supernatural. Tretyakov bought this painting too.
In the period from the 1890s- 1900s, Mikhail Nesterov began painting and creating mosaics in cathedrals and churches so he was mainly focused on religious themes and motifs. He worked on the Vladimir Cathedral in Kyiv, the Cathedral of Ressurection of Christ in St. Petersburg, and the Church of Alexander Nevsky in Georgia.
Despite the "Hermit" and "Vision to Youth Bartholomew" his most popular works related to religion from this period are "Youth of Saint Sergey Radonezhsky" (1892-1897), "Tzarevich Dmitry" (1899), "Philosophers (Portrait of Pavel Florenskiy and Sergey Bulgakov)" (1917), "Archbishop (Portrait of Antoniy Volynskiy)" (1917).
Nesterov spent twenty years before he finally finished the painting of the walls in the churches of Kyiv. In 1901, he made a visit to the Solovki Monastery and made a series of paintings that depict monastery life near the White Sea.
Mikhail Nesterov always said that his greatest ambition and strive is to show the soul of the people in his paintings, instead of the luxurious interiors of most of the religious buildings and premises. He usually chose raw nature and modest figures for his paintings.
Next in the series of his most famous works is "Saint Russia", exhibited in 1902. This painting was inspired by the northern banks of the ice-cold sea that, undoubtedly, attracted Nesterov quite intensely.
Just before the October Revolution of 1917, Nesterov Mikhail painted his "The Soul of the People" which depicts noblemen and commoners in a procession.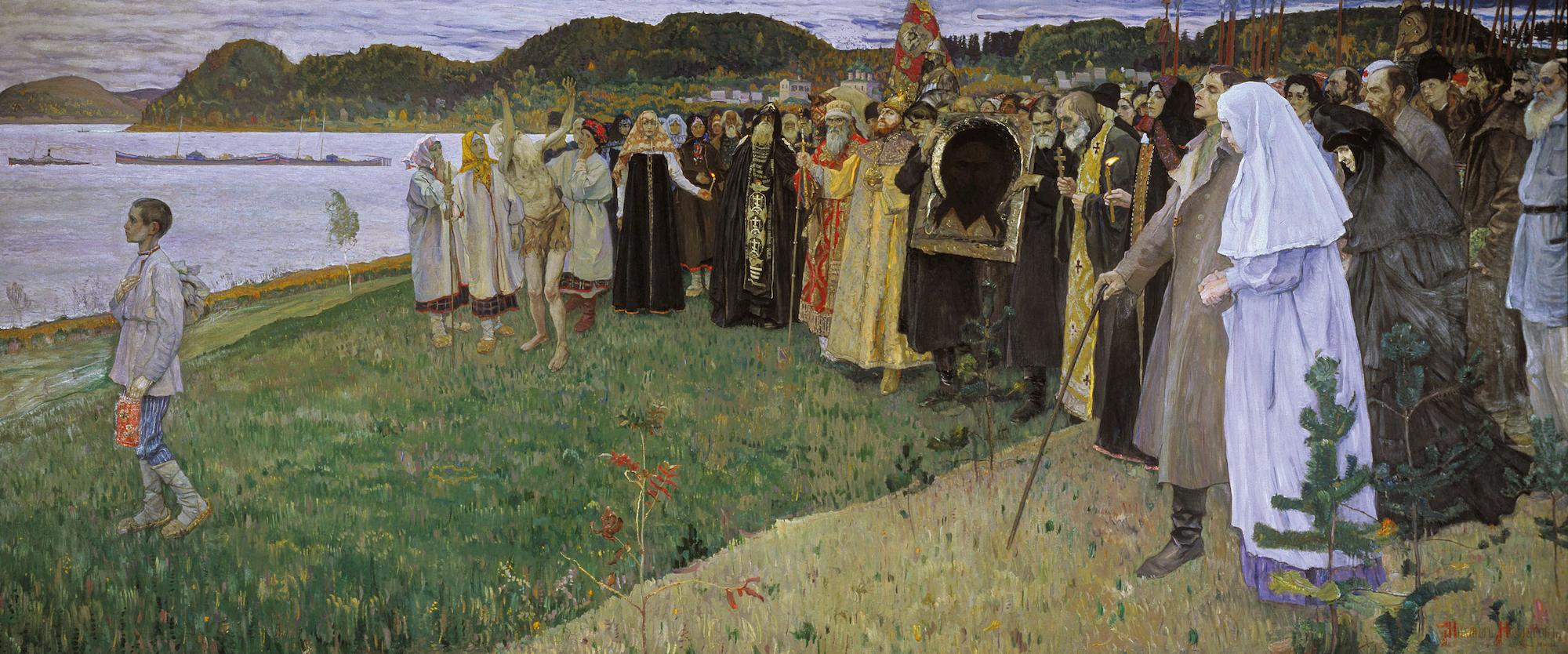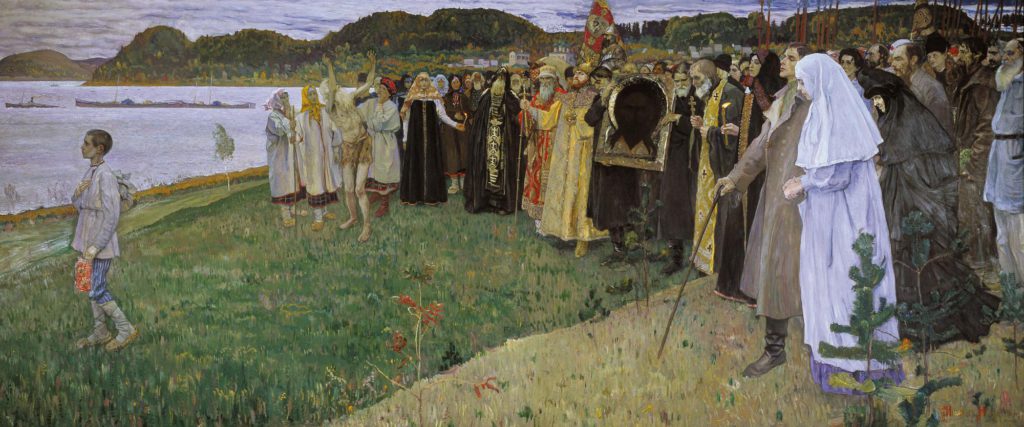 Nesterov's Career During the Soviet Period
During the Bolshevik revolution, religious art of any kind was banned for the creation and exhibiting, so sometime after the revolution, Nesterov changed the course of his actions as an artist.
In the later, so-called "Soviet" period in his artistic career, Nesterov dedicated himself to painting portraits. He painted some of his exceptional contemporaries such as Portrait of Sergey Yudin (1935), Portrait of Ivan Pavlov (1935), and also portraits of his colleagues, Portrait of Ivan Shadr (1934), Portrait of Vera Mukhina (1940).
Although he spent two decades in painting portraits, he always tried to stick to his unique artistic voice and style. The series of portraits is also known by the name of "Soviet cultural figures" and they represent people who were chosen personally by Nesterov himself who preferred presenting "natural people of kind spirit" rather than only people who were the so-called members of the rising Soviet intelligentsia.
In 1841, Nesterov received the Stalin Prize for his portrait of Ivan Pavlov, an acclaimed physiologist. This painting was made in two versions which are now present at the Tretyakov Gallery and in the Russian Museum.
His last painting was "Autumn in a Village", a landscape painting. In the years before his death, Nesterov was writing a book of memoirs that were posthumously published.
Nesterov died in 1942 and was buried in Moscow at the Novodevichy Cemetery.
Related post: Boris Olshansky: Scenes From the Slavic Mythology
Legacy
Mikhail Nesterov was one of the most popular Russian artists in his time and his works have been displayed on over 15 solo exhibitions. Moreover, Nesterov donated a lot of his works to the Tretyakov Gallery as he felt that it was "the right thing to do". Today, the Tretyakov Gallery has a special room that is entirely dedicated to the works of Mikhail Nesterov.
Take a look at our article about contemporary Russian artists to learn more about the current art scene in Russia.
Invite Us to Your Inbox
Join
6347 other people
interested in Slavic culture. We don't spam and will only send you an email once or twice a month with latest and most popular articles on Slavs.