Prskalo waterfall is one of the most beautiful and most interesting waterfalls in Serbia, with its very unusual structure that resembles a tall stone sculpture. 
The water from the nearby spring flows over the top of the rock, creating a thin but powerful jet.
Due to it's unusual look and uniqueness, it has become famous worldwide among nature lovers.
Prskalo Waterfall Serbia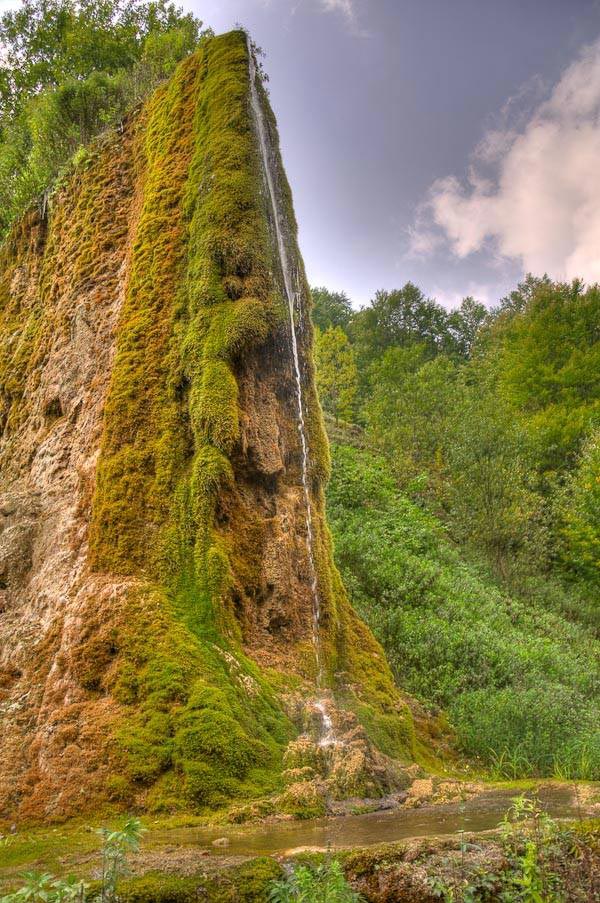 One of the most beautiful places to visit in Serbia is Prskalo Waterfall. Located in Eastern Serbia, on the mountain Kuchaj. 
This natural wonder consists of a dome created from Tufa layers [1]. From these Tufa layers water gushes (or sprays) down through narrow channels. Because of this spraying water the waterfall is called Prskalo (the name derived from the Serbian word prskati which means to spray).
The Prskalo Waterfall is one of the most unusual and beautiful creations of nature. 
To get to the Prskalo Waterfall you will have to pass through a forest road that is somewhat difficult to navigate. But, at the end of your journey you will be rewarded with one of the most beautiful views in the world.
Near the waterfall (or 50 meters away from it), lies a spring of the river Nekudovo. 
Prskalo Waterfall Sculpture
Prskalo Waterfall is often called a sculpture, because of its unique and unusual shape. The whole thing resembles a tall stone sculpture, perfectly placed to create one of the most beautiful views in the world.
Prskalo Waterfall is located 800 meters above sea level. 
Reaching Prskalo Waterfall
Prskalo Waterfall is located in the vicinity of the village called Resavica (kind of famous for its coal mine). The village of Resavica is 150 km away from the capital of Serbia, Belgrade. It's about 2.5 hours of driving on the Beograd-Nis highway. 
When you are in Resavica village, go towards the end of it. There you will see a signpost with the words "Valkaluci" written on it.
The signpost points to the right and will lead you on a 15km long trek through the forest (remember to wear some good shoes as the road is made from gravel).
At the end of the trek you will be gifted with a view of one of the most beautiful natural wonders in Serbia – Prskalo Waterfall.
The Bottom Line
I've told you a little about one of the most beautiful and unusual places to visit in the whole country of Serbia. Waterfall Prskalo is an amazing tourist location and if you ever find yourself near, be sure to check it out. I promise you, you won't regret it.
References
https://www.sciencedirect.com/topics/earth-and-planetary-sciences/tufa
Invite Us to Your Inbox
Join
6347 other people
interested in Slavic culture. We don't spam and will only send you an email once or twice a month with latest and most popular articles on Slavs.