As one of the most famous Russian contemporary artists, Pavel Ruzhenko definitely deserves his own article. And guess what? He got one (It's this article if you didn't get it).
Pavel Ryzhenko was an artist that perfectly combined composition with realism, bringing us closer to a specific moment in time.
As an artist, Pavel Ryzhenko usually depicted important Russian historical events. His canvases were brought to life by this artist's favorite technique, oil on canvas.
People consider Pavel Ryzhenko, as one of the last true geniuses of the art world. 
If you ever find yourself in Russia, you would be remiss not to visit some of the galleries that display his work. 
Key Takeaways
Pavel Ryzhenko is a Russian Military Artist that painted famous events from Russian history.
Pavel Ryzhenko was famous for his use of compositions and the incredible realism that his paintings had (they still do). 
As a modern, contemporary artist, Pavel Ryzhenko has had a huge influence on Russian culture and art, as well as that of the world. 
Pavel Ryzhenko Early Life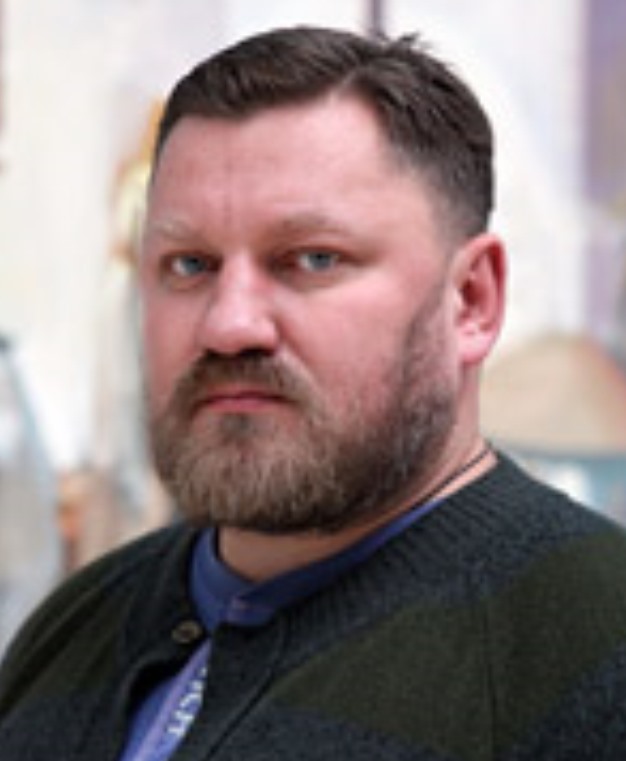 Pavel Viktorovich Ryzhenko was born in the city of Kaluga in 1970 [1]. He didn't consider himself as one of those "troubled artists" and often talked about his happy and joyful upbringing. 
Pavel Viktorovich, unlike most kids, found his early happiness in talking with his mother and grandmother. During his childhood years, he found joy in conversations about life and the transfer of knowledge between generations.
Pavel was anything but simple and his career proves that. As one of the most prolific Russian artists of the modern era, Pavel Viktorovich will be remembered for centuries to come.
Education
When he was 12, Pavel Ryzhenko entered the Moscow secondary art school (this art school is a part of a larger Surikov Institute) [2]. 
Six years after entering the Moscow art schools, Pavel Ryzhenko graduated (1988). Pavel himself talked about how at that age, he already knew he wanted to spend his life as a painter.  
Soon after he graduated, Pavel enlisted in the army. Pavel Ryzhenko went through basic combat training and decided to stay in the army for almost 2 years.
After a two-year stint in the army, Pavel Viktorovich enrolled in the prestigious Russian Academy of Painting, Sculpture and Architecture (as a part of the Composition department) [3]. 
This famous Russian artist studied under the I. S. Glazunov who was widely known as the People's Artist of Russia.
In 1996 Pavel Ryzhenko successfully defended his thesis, after which he became a professor at the same academy he studied at (specifically he was a professor at the department of composition).  
Pavel Ryzhenko and His Paintings
Most of the paintings made by this famous Russian artist were about important events (or moments) in the history of Russia. As it goes with history, some of the most important events were also the bloodiest.
Kalka 
Pavel Viktorovich painted this masterpiece while he was still a student. In fact, this is the work he defended as a part of his thesis and the work that forever branded him as a genius. 
This painting was inspired by a real historical event, the famous Battle of Kalka River (like many of his paintings were).  
The Battle of Kalka was Russia's first encounter with the Mongol Empire (1223). And, well, Russian's did not have a good time (to say the least). The battle ended with Mongols as decisive victors. 
Kalka is an oil on canvas painting and is now a part of a private collection (that is unfortunately not available for the public).
Palace Grenadiers 
Palace Grenadiers (or simply Grenadier) is one of the most famous paintings by Pavel Viktorovich. 
Grenadiers were the elite of the elite. They protected the Imperial palace. They wore bearskin hats and were usually made up of retired army veterans.
This work is praised for its incredible composition, as well as the remarkable use of light and its realism.
The Victory Of Peresvet
Pavel Ryzhenko painted this painting in 2005. The painting represents a Christian Orthodox monk called Alexander Peresvet who fought in single combat against the Tatar-chosen champion.
The duel between these two men preceded the Battle of Kulikovo (1380) [4]. The duel ended in a draw (kind of), with both men killing each other. 
The Russian army, led by Dmitry of Moscow, won the day. This victory is considered a historical turning point in the Russians' fight against the Mongols.
Battle Of Neva
The painting, Battle of Neva is the most famous part of the triptych called "The Sun of Russian Land".
This popular work represents one of the most famous battles in Russian history (and possibly the world). The battle was fought between the forces of the Novgorod Republic and the Sweedish Kingdom. 
The Russian side was led to victory, by the now famous, Alexander Nevski. Pavel Viktorovich Ryzhenko painted this masterpiece using a technique called oil on canvas (in 2008) [5]. 
Tsar Alexei Mikhailovich Quietest
Pavel Viktorovich painted this oil on canvas painting in 2006. It's a representation of a great Russian Tsar Alexei, who was at one point, the head of the Romanov dynasty. 
Tragic Death of Pavel Viktorovich Ryzhenko 
As it's the case with many famous and talented artists, this one died too soon.  At the age of 44, this amazing artist died from a stroke. 
Whether he could foresee his death or not is not known, but he did donate all of his paintings to the Russian government, just before his unfortunate passing. 
He was buried in the city of his birth, Kaluga, in 2014.
The Bottom Line
Pavel Viktorovich was one of the best painters of the modern era. He is not only remembered fondly in Russia but all over the world. 
His art depicted key moments in the history of Russia, bringing its audiences closer to the events of the past. 
Pavel Ryzhenko will forever be praised for his amazing composition, use of light, and realism that all of his paintings exuded. 
He affected the Russian culture in unique ways, and will always be remembered for his amazing historical art. 
References
https://www.britannica.com/place/Kaluga-Russia
https://www.lifebeyondtourism.org/institutions/moscow-state-academic-art-institute-named-after-v-i-surikov/
https://www.tretyakovgallerymagazine.com/articles/1-2008-18/years-russian-academy-painting-sculpture-and-architecture
https://www.britannica.com/event/Battle-of-Kulikovo-1380
https://www.britannica.com/art/oil-painting
Invite Us to Your Inbox
Join
6347 other people
interested in Slavic culture. We don't spam and will only send you an email once or twice a month with latest and most popular articles on Slavs.