A true master of landscape who through his talent translated the popular maxim "the beauty is in the eye of the beholder", Ivan Shishkin continues to capture the attention of art audiences all around the world.
Like many Russian artists and painters throughout history, this popular Russian painter was also inspired by landscapes and images of nature's scenery.
However, what made him special and, therefore, much appreciated was his authentic manner and craftmanship in painting that presented everyday scenes as extraordinary, almost dreamlike images.
According to art historians and curators, Shishkin's special talent lay in his ability to see and understand the harm and perfect harmony of nature. This strive to communicate with nature began since Ivan Shishkin was a child, wandering amazed around the breathtaking landscapes in the countryside regions of his homeland.
As a master of detail, he tended to present each element in his painting as vividly and clearly as possible, almost as if praising nature's integrity and its powerful omnipresence. His landscapes are overwhelmed with warm pastels or crisp color shades that impress spectators and create an illusion of being present in the very image painted on the canvas.
Ivan Shishkin's Early Life
Ivan Shishkin was born into a middle-class family on 25 January, 1832 in Yelabuga, Vyatka Governorate, Russian Empire. His exceptional talent for drawing was evident from his early age, however, his family was not quite delighted to have their son growing up to be a painter and continuously rejected the idea.
Nevertheless, Ivan Shishkin never parted from his pencil and his drawing notebook as the act of drawing nature was an act of studying nature for Shishkin. This resulted in the incomparable mastery of drawing trees to the smallest detail. Unsurprisingly, his contemporaries called him "Forest Tsar", "Old Pine Tree", "Lonely Oak", "Titan of the Russian Forest" as there was no one else who could paint forests so realistically and with such great devotion.
In 1884, after finishing primary education, Shishkin was sent to Kazan grammar school where he finally made people with whom he could share his passion for art and science. As a student, he was dedicated to natural science and excelled in these subjects. However, the grammar school seemed quite restrictive and unreliable for his professional ambitions so when the school summer break ended, he quit school.
According to his autobiography accounts for this period, he abandoned grammar school because he felt overwhelmed with "narrow- minded formalism" and refused to "become a clerk".
Shishkin carried on with his education at the Moscow School of Painting, Sculpture, and Architecture in the following four years under the guidance of professor Mokritsky. Next, he enrolled at the Imperial Academy of Arts in Saint Petersburg and studied there until 1860.
During the four years at the Academy, he won a number of awards and received a gold medal upon his graduation day for his work View of Valaam Island, Kukko 1860 (Russian Museum, St Petersburg) that supported his exquisite talent as a rising artist and provided him the so-called imperial scholarship for studying in Europe in the following 3 years.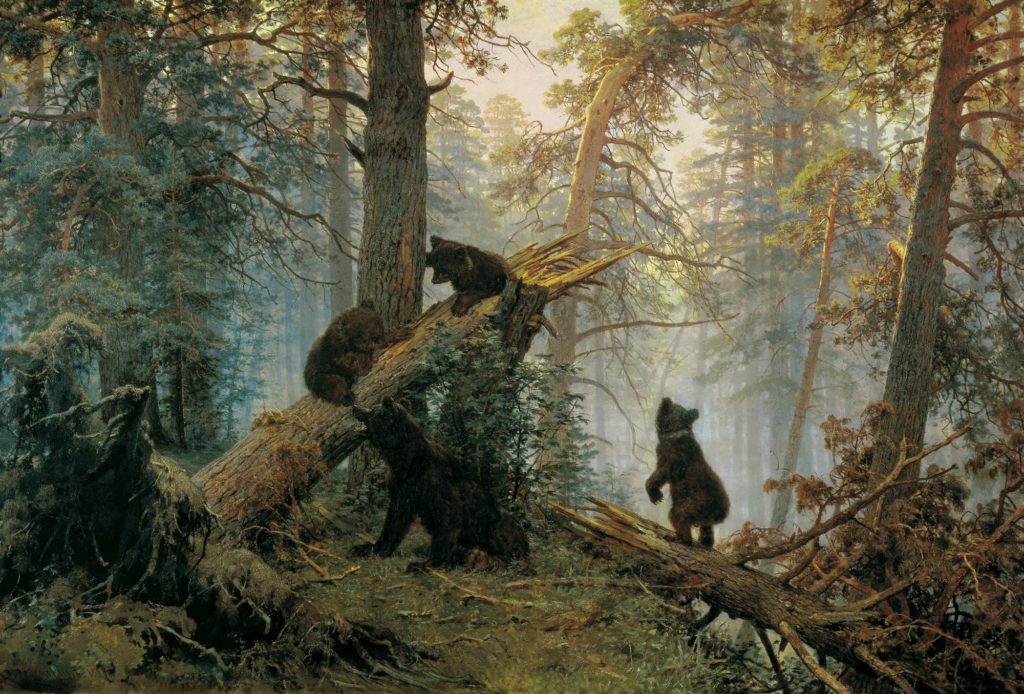 Life Abroad
Ivan Shishkin's aspirations toward the depiction of landscapes and nature images were evident since his student days so after he had received the gold medal he didn't rush to choose his next academic destination but went to his loved Yelabuga to paint.
He enjoyed tucking into the deep forest or finding new, undiscovered spots in the countryside that would let him paint for hours, letting himself feeling detached from time and any errands but simply united with the surrounding nature that was revived on the canvas with each stroke of his brush.
Although honored to have received the award and the medal from the Academy, Ivan Shishkin was never an artist who enjoyed nomadic living. His heart and soul were attached to his motherland Russia, so when he went abroad in 1862 he was stroke by a feeling of isolation and alienation while wandering the streets of Berlin and Dresden.
Feeling homesick, he even wrote, "Why such heartache? Why am I not in Russia that I love so?". However, things changed when he went to Prague. There, Shishkin found inspiration once again, drawn by the paintings and drawings of the Czech realists, especially those of the renowned Joseph Manes.
In 1863, Shishkin went to Switzerland where he visited Sir Rober Collier who had a studio in Zurich. Collier was a master of etching and was happy to hand over his technique to Shishkin who later dedicated himself to both etching and lithography. Moreover, Switzerland captured the artist's eye since its glorious mountains were a never-ending source of inspiring views that he loved to sketch.
This period of Shishkin's life and work elevated his career to another level after he had produced the painting View near Dusseldorf (1865, Russian Museum, St. Petersburg) and consequently was awarded full membership at the Imperial Academy of Arts. In 1897, the painting was displayed at the World Fair in Paris.
Return to Russia
When he returned home in Russia, he founded the innovative artistic association popularly known as "The Wanderers" or The Association of Travelling Art Exhibitions". This Association is also known as "Peredvizhniki" or "Itinerants" in English.
The artistic cooperative group was formed as a protest against academic restrictions. Initially by fourteen students who decided to leave the Imperial Academy of Arts.
According to the students, the teachers at the Academy were constraining and strictly separated high and low art. Their pursuit was focused on bringing and educating common people with art, thus they formed the independent artistic society,
The group of traveling exhibitions visited people from the province and showcased achievements of Russian Art in order to teach them to appreciate it. They presented works that depicted the contemporary life of the people in Moscow and Saint Petersburg and were always independent in their actions, never supported by the state.
The Peredvizhniki exhibited works that would portray many aspects of social life to the people in the provinces. Very often, they presented images that spoke about injustice and inequality but also the endeavors of the lives of the common people.
Their subjects presented the strength of character and vigor that was supposed to communicate with this audience. The group was opposing the orders of the Russian aristocracy and the autocratic government who emphasized humanistic art.
The group chooses works that would portray the emancipation movement of Russian people with empathy and dignity.
After working intensely with this group, Shishkin became a member of the Society of Russian Watercolor Artists, and the participation in these art groups led to participating in exhibitions at the Academy of Arts, the All Russian Exhibition in Moscow, the World Fairs in Paris, and Vienna and the Exhibition in Nizhny Nogorod, in the period from 1882- 1896.
Professorship
In 1873, the artistic career of Ivan Shishkin was upgraded with an academic position as he became a Professor of Painting at the Imperial Academy and taught there until 1898.
During his prodigious and successful career, Shishkin produced hundreds of landscape paintings such as Beech Forest in Switzerland (1863, Russian Museum, St. Petersburg ), Teutoburg Forest (1865, RM, St P), Promenading in the Forest(1869, RM, St P), Noon in the Neighbourhood of Moscow (1869, Tretyakov Gallery, Moscow), Forest Landscape with Herons (1870, RM, St P) Willows Lit Up by the Sun (the 1870s, RM, St P), Gathering Mushrooms (1870, RM, St P) Pine Forest in Viatka Province (1872, TG), Morning In a Pine Forest (1889).
A great deal of the works of Ivan Shishkin art collection was bought by the Russian art collector Pavel Tretyakov who collected many of his drawings and engravings.
Later Life
Unfortunately, Shishkin's career success was never aligned with his private life which was quite unfortunate. He was married twice but remained widowed both times and his children also passed away. Fighting with his internal grief and darkness, Shishkin never gave up painting and kept on creating until the very last days of his life.
The culmination of his career was in 1898 when he completed the composition "Grove of Ship Timber" in which he expressed his memories and impressions of the early childhood period.
The painting depicts the Afonasov grove of shipbuilding timber near Yelabunga. The work is devoted to his homeland for which he always kept a special place in his heart and artistic imagery. This grand painting was made not long before the last day of his life.
As much as he was known for his painting, Shishkin was equally proficient in developing his personal style and technique, later known as Ivan Shishkin technique of engraving and drawing. In the 1880s, his drawings were made in chalk and charcoal that are characterized by a greater expressiveness than the drawings from the 1860s.
In 1898, at the age of 66, Shishkin died unexpectedly in his studio in St. Petersburg while working on his last painting "Forest Kingdom". Today, the largest collection of Ivan Shishkin paintings can be seen at the Tretyakov Gallery in Moscow and at the Russian Museum in St. Petersburg.
Related article: Mikhail Nesterov: Prominent Russian Artist
Invite Us to Your Inbox
Join
6347 other people
interested in Slavic culture. We don't spam and will only send you an email once or twice a month with latest and most popular articles on Slavs.